State Football Championship Information and School Schedule Change Information Congratulations to our Ellsworth Panther Football Team for reaching the state championship game to be held at Camp Randall Stadium in Madison Thursday, November 18th at 7:00 pm. This is a huge accomplishment and the first time our team has made it since our championship in 1990. Due to the late time of the game on Thursday evening and the many students, staff, and families who will be attending the game, we are making some adjustments to our school schedule. Thursday, November 18th we will be releasing school for all grades at 12:30 pm. There will be no school on Friday, November 19th. We will now have school on Monday, April 18th which was our scheduled first snow make up day due to these adjustments. Panther's Kids Club will be available for all families in need of daycare during the early release on Thursday and all day on Friday. A link will be sent on Monday for parents to sign up any elementary age students in need of daycare. Key Information Send-Off/Pep Rally Info: There will be a send off for the Football team Thursday morning in the HS Gym. Time is to be determined & announced once the Football team itinerary is determined. Panther State Tournament Gear/Panther Den: State Tournament gear has been ordered and will be available for sale starting Monday morning (more info pending here as well, including photos). There will be a t-shirt and hoodie option. Order arrives on Wednesday. The Panther Den will be open and available throughout the week during the school day for other Panther gear. Fan Bus Info: The school will be offering fan bus options the day of the game. We are working to secure Coach and School bus options. Information will be provided when available and sign up starting Monday morning in the HS office. The Fan bus will leave shortly after school Thursday (12:45-1:00) and return following the completion of the game and award ceremony. Game Tickets: Ticket information will be posted upon confirmation with the WIAA Welcome Back Info: There will be a welcome back pep rally in the HS Gym Friday afternoon at a time to be determined. Congratulations again to all of the players, coaches, and families for this great accomplishment. Let's bring home another state championship!!

We hope to see you at our Veterans Day program at EMS.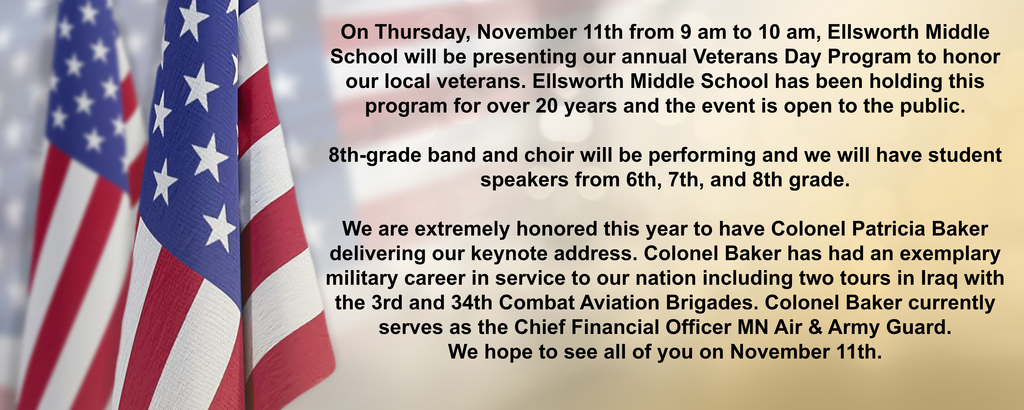 Residents of the school district may soon be receiving a call offering the opportunity to participate in a telephone survey measuring a number of opinions about school district operations. We are once again working with The Morris-Leatherman Company to provide a community based survey to be delivered to residents. The survey is to be conducted starting the week of November 8th and will be completed prior to the Thanksgiving holiday. The survey is very similar to surveys we have conducted in the past. The survey is a scientific based telephone survey. The Morris Leatherman Company will be calling a number of residents to compile the information needed to provide for a database that represents the District as a whole. The survey will provide valuable information regarding the public's perception of the District's current operations, tax tolerance, level of support for referendum models, and preferred means of communication. This survey is a valuable tool for the district to get feedback from the public. In April, 2018, the residents of the school district approved an Operational Referendum that allows the school district to exceed the state imposed revenue limit by $1 million per year for four years. This authority now expires at the end of the school year and the district is currently developing another Operational Referendum for the April, 2022 election. We hope that all residents who receive a phone call for the survey can take the time to go through the process. It is a great avenue for residents to provide feedback about school district operations while also shaping the April, 2022 Operational Referendum.

𝐋𝐞𝐯𝐞𝐥 𝟑 𝐅𝐨𝐨𝐭𝐛𝐚𝐥𝐥 𝐏𝐥𝐚𝐲𝐨𝐟𝐟 𝐅𝐚𝐧 𝐁𝐮𝐬 𝐈𝐧𝐟𝐨𝐫𝐦𝐚𝐭𝐢𝐨𝐧 Friday, Nov. 5th 7:00 pm- @Northwestern HS- Maple, WI Ellsworth School District will be offering Fan bus(es) for HS students and adults for this Friday's Level 3 Football Game at Northwestern HS. The cost will be $5 per person and you will still need to purchase a $7 ticket at the game. Students will be dismissed at 2:15 and buses will leave by 2:30 from the front of the HS. The buses will stop on the way to the game at a fast-food restaurant. The sign-up deadline is Thursday at Noon. Bus cost: $5 Ticket cost: $7 (at the game) Time: student dismissal 2:15/bus departure 2:30 Deadline: First 125 signed up by Noon on Thursday Students will need a note of permission in order to sign up. $5 must be paid when signing up. Sign-up will be available in the HS Office.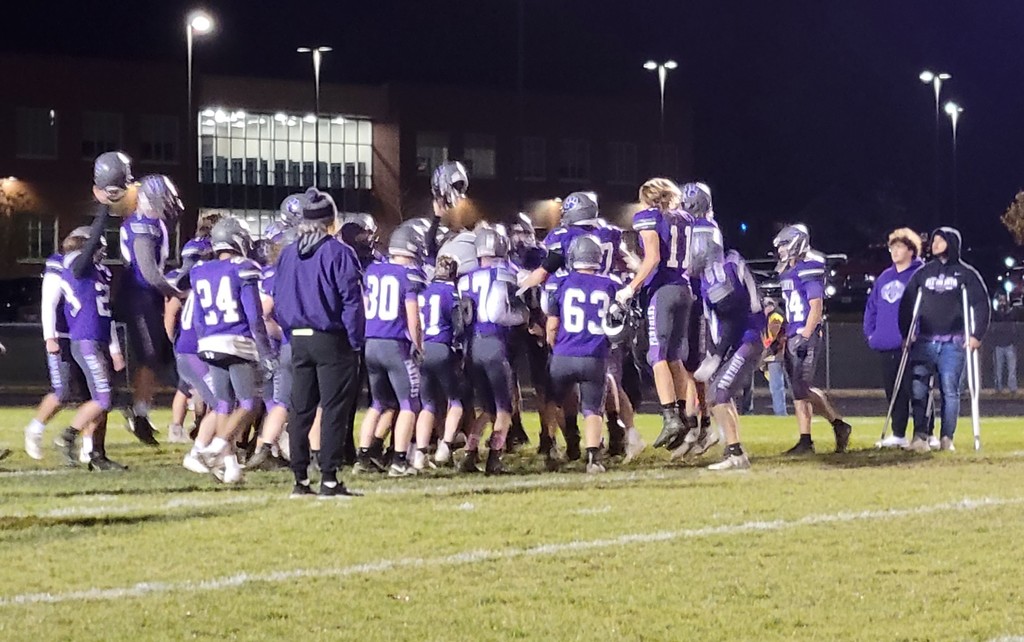 ECSD is currently hiring for a Special Education Teaching Assistant at EES. Schedule would be as follows: (3) 8 hour days 7:45 - 3:45 p.m. Tuesday, Thursday & Friday Temporary additional hours Monday and Wednesday 12:30 - 3:45 p.m. (November & December only) A teaching assistant in general and special education classrooms includes supporting students with academic work, behavior support, supervision at lunch and recess. Must have a High School diploma or GED. All questions can be directed to Mary Zimmermanm by email at
zimmermanm@ellsworth.k12.wi.us
or by phone at (715)273-3912.

The ECSD is currently hiring for a full time sub teaching position for the remainder of the school year. All questions can be directed to Superintendent Barry Cain by email at
cainb@ellsworth.k12.wi.us
or Ashley Halverson by email at
halversona@ellsworth.k12.wi.us
or the District Office by phone at 715-273-3900.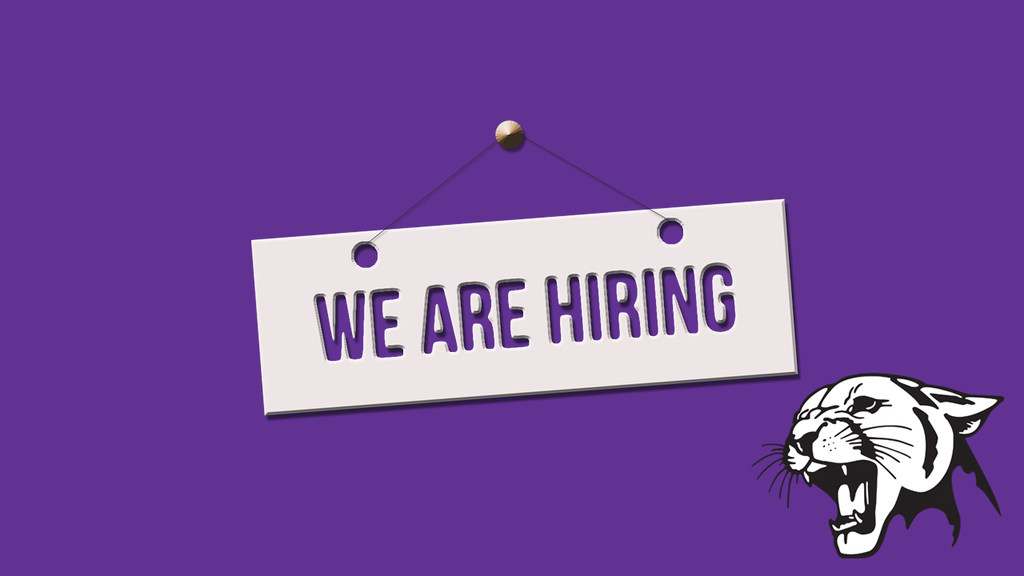 An important announcement from our food service director, Dee Rasmusson.

ECSD is currently hiring for a High School Spanish and High School Industrial Technology teaching positions. Both positions have estimated start date of January 17, 2022 and are being simultaneously posted for both internal and external candidates. All questions can be directed to Mary Stoesz by phone or email.

We have two menu changes for next week. Please make notes on your calendar. Tuesday October 26 will be: Chicken Pattie on Bun Mashed Potatoes Steamed Corn Choice of Fruit Thursday October 28 Teriyaki Chicken over Rice Steamed Mixed Veggies Choice of Fruit Cookies

Admission for the playoff football game on Friday 10/22 is $6 for everyone and passes will not be accepted. GO PANTHERS!!!

Support Your Panthers: Get your yard signs to support all the great things going on in Ellsworth right now! From Cinderella to a playoff run in Football, there are so many reasons to show your Panther spirit! There are lots of signs left for sale. Proceeds from the sales go to support the EBSA Brown Field Playground. Email
pechaceka@ellsworth.k12.wi.us
or
meierk@ellsworth.k12.wi.us
if you'd like to arrange to buy a sign. Signs are $20 and you can choose from "A Panther Lives Here" "Proud Supporter of the Ellsworth Panthers" or "Proud Grandparent of an Ellsworth Panther."

ECSD is currently hiring for a Middle School Special Education teacher. This Special Education Teacher is the case manager for students with intellectual disabilities and Autism. They work in collaboration with other staff in providing academic, functional, and vocational programming. The Middle School Special Education team operates as a professional learning community. Qualifications: Ability to implement creative and innovative classroom instructional practices; Develop and build positive relationships with students, staff, support staff and parents; Knowledge of the evaluation process and IEP requirements; Knowledge of functional behavior assessment and behavior intervention plans; Ability to plan for, support and guide specially designed instruction for delivery to students; Ability to delegate duties and responsibilities to Teaching Assistants to support goals and provide safe learning environments as outlined in a student's IEP; Ability to implement academic and behavioral interventions; Ability to work collaboratively in a fast pace flexible environment; Ability to incorporate Social-Emotional Learning into daily lesson planning; Training and experience in social skill instruction and teaching self-regulation skills. Licensure- Special Education Cross Categorical license (801), EBD (830), SLD (811) or Cognitive Disabilities (810). Applicants eligible for emergency licensure will be considered based on the applicant pool. All questions can be directed to Mary Zimmerman.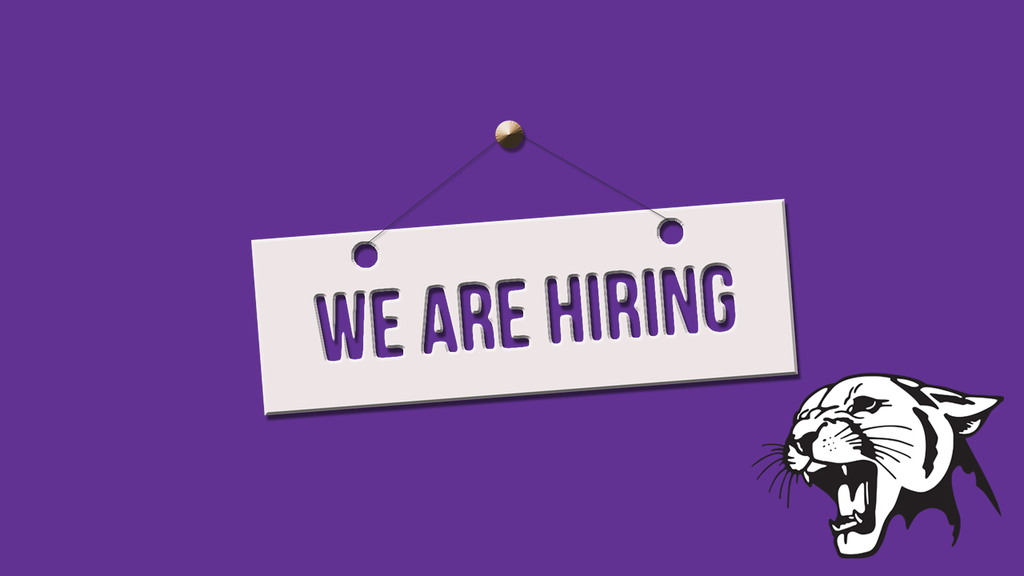 Annual Ellsworth School Flu Shot Clinic Information Date: Thursday, October 28th Time: During the School Day All students participating must have a consent form signed by parents. Forms can be found here:
https://www.ellsworth.k12.wi.us/page/school-nurse

Monday is a White Day. No School on Friday October 22nd- Teacher Inservice. Enjoy the week!

A group of EHS students have created a Refugee School Supply Fundraiser as part of their Capstone Project. Please consider helping them reach their goal to support 400 children at Fort McCoy here in Wisconsin.
https://www.youtube.com/watch?v=Lg0z7TIX9OI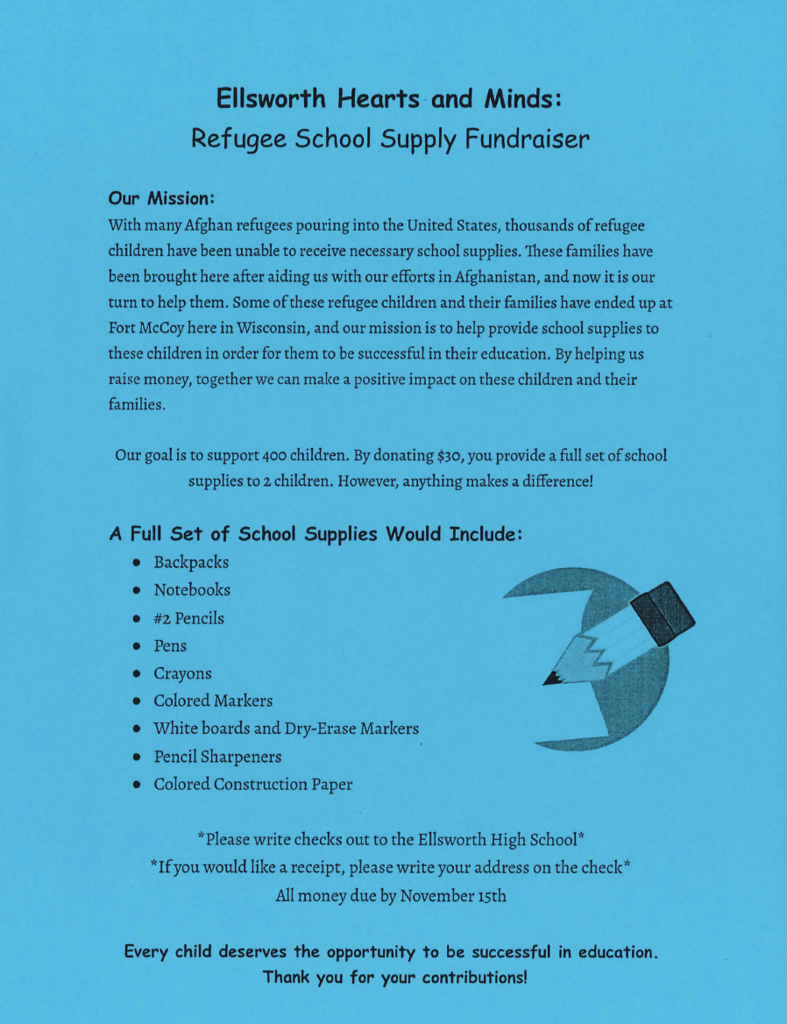 EES Class of the Week. Congratulations to Mrs. Gray's 5th grade class!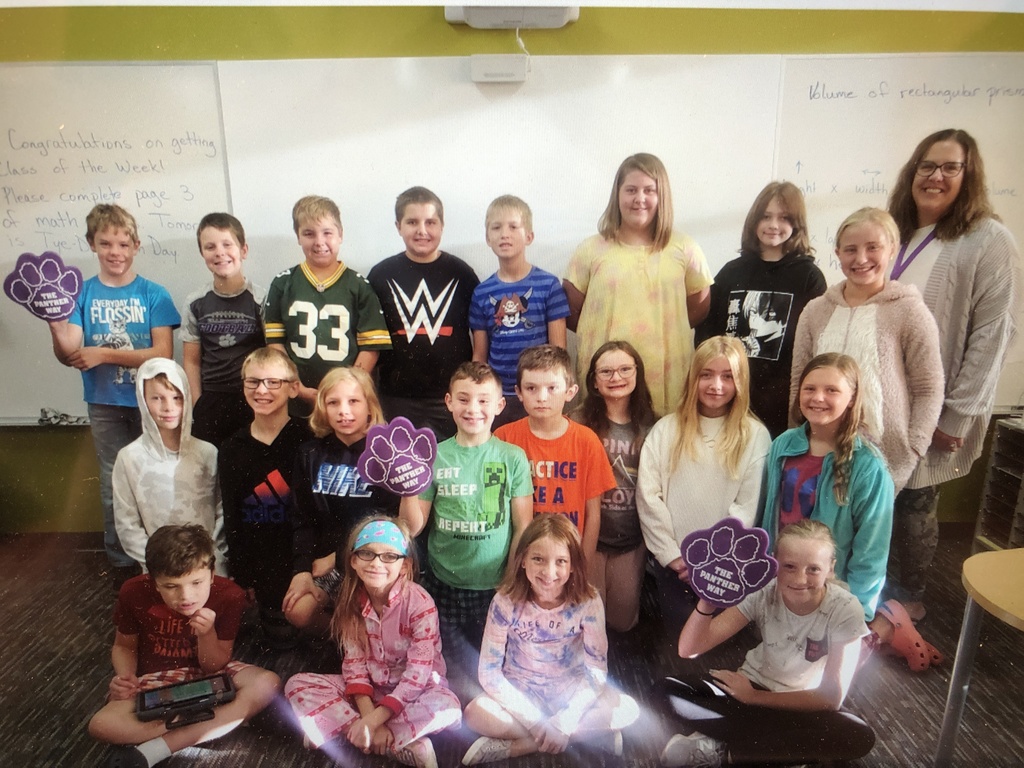 The Lock-In Committee will be hosting a Chili Feed Friday October 1st in conjunction with Homecoming. This will be a tailgate event hosted in the lower HS south parking lot (by the gym entranced). Thanks for supporting our Lock-In Committee!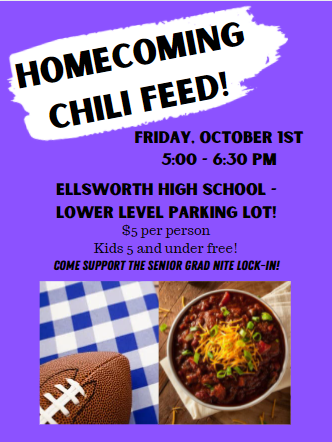 HOMECOMING GEAR The Panther Den is going to be open daily from 11:15 am - 3:30 pm for the pickup of Homecoming items that have been ordered.

It's Homecoming week! Monday is a PURPLE day. Monday-Pajama Day Tuesday - Class Color Day 8th Grade: Black 7th Grade: Blue 6th Grade: Green Staff: Orange Wednesday - Dress Like Dad/Mom Day Thursday - Retro/Throwback Day Friday - Panther Pride Day