2022 EHS Homecoming Court Candidates Congratulations to the following students on being selected by their classmates to represent their school as Homecoming Royalty Candidates. Royalty Coronation will be Sunday, September 25th at 12:00 p.m. on the Fuller-Symes Football Field (weather permitting). Left to right Back Row: Wyley Myers, George Rohl, Braydon Anderson, Jurell Gooden, Sam Kollbaum, Bo Hines, Andrew Gutting, Max Langer, Stefano Riolfo Front Row: Shaye Quade, Lexie Marks, Julia Boyle, Kendra Aufderhar, Karissa Kollbaum, Derek Johnson, Sawyer Blomberg, Payton Rohl, Audrey Farrell, Julia Anderson, Taryn Baker, Betsy Foster, Mary Prissell, Lillian Clark Missing from the photo: Sam Allyn, Adrienne Bayer, Clive Brookshaw, Isabel Billeter, Adam Capatske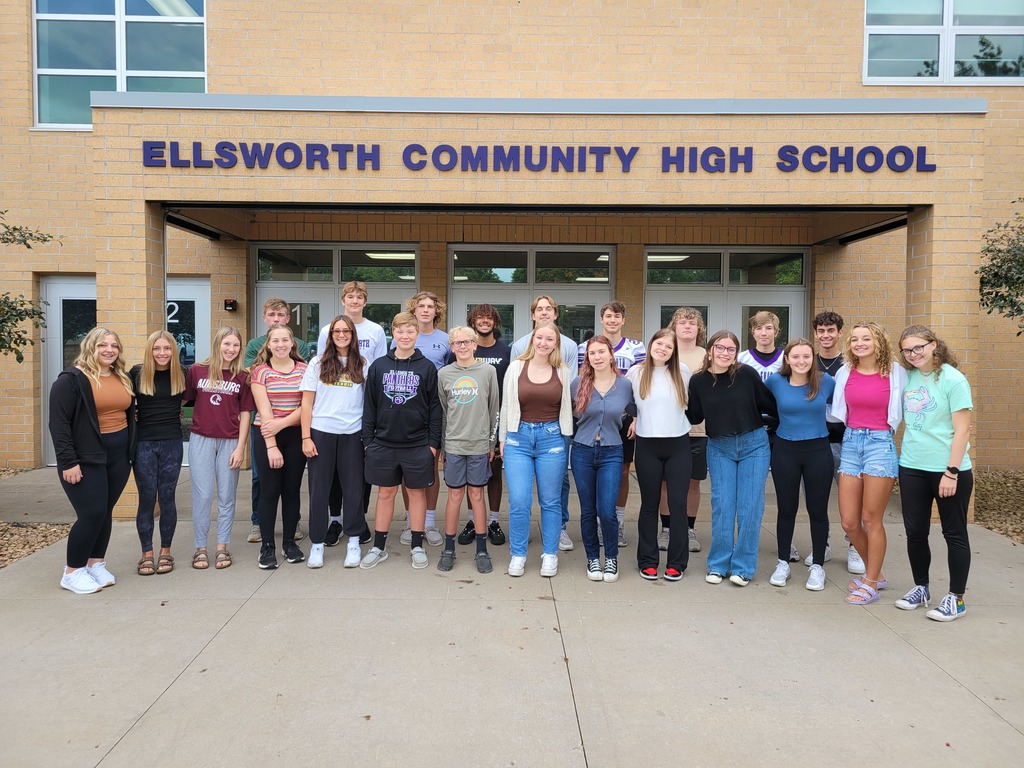 Ms. Horn's 3rd graders read stories to Mrs. Zierl's kindergarteners for their first buddy activity.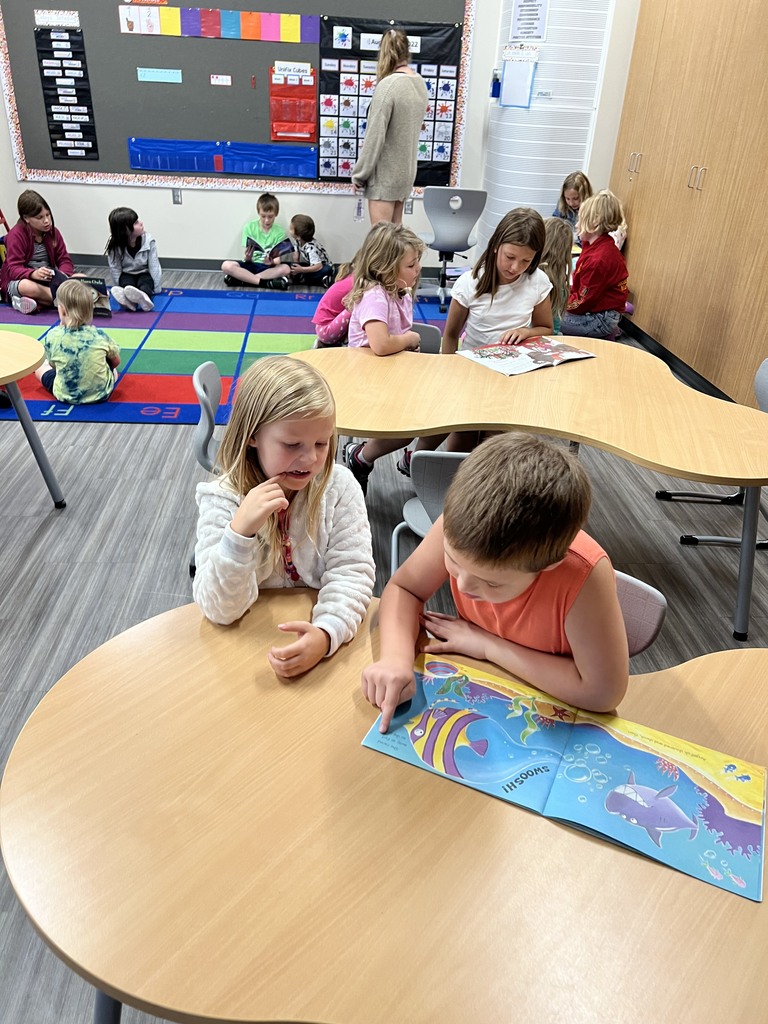 The school year has started! Let's show our support to the students of the Ellsworth Community School District! Get your yard sign today!! They work great in the windows of your businesses, also!! Comment here or message me to make arrangements to get your sign!


EEPC is sponsoring two fun events coming up. Check them out!!!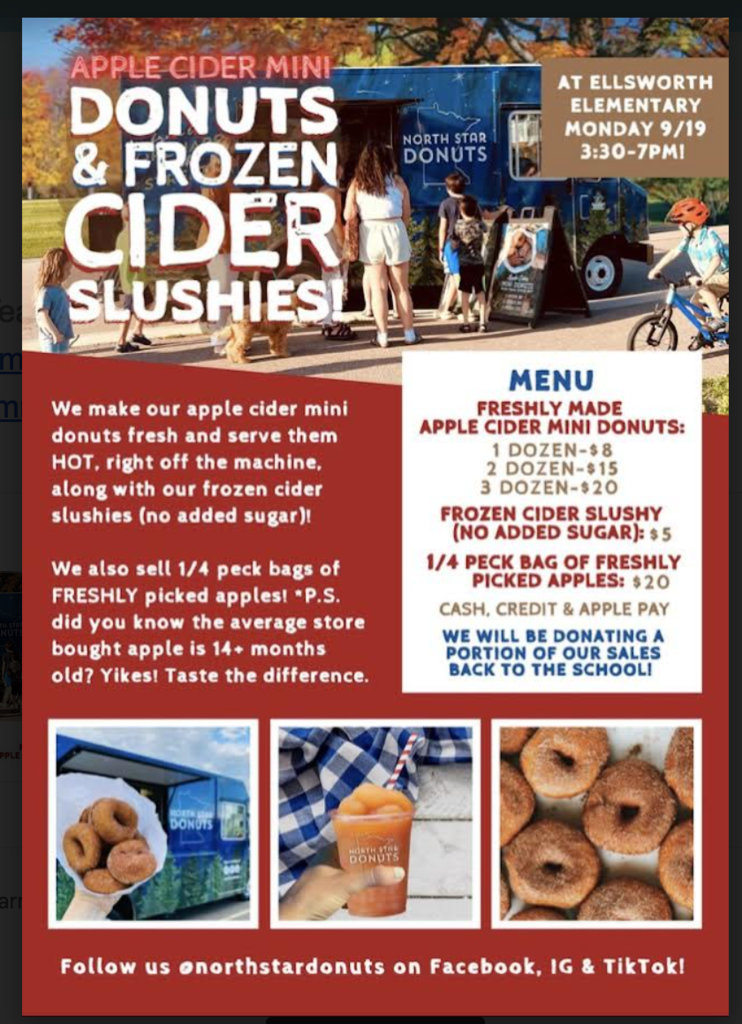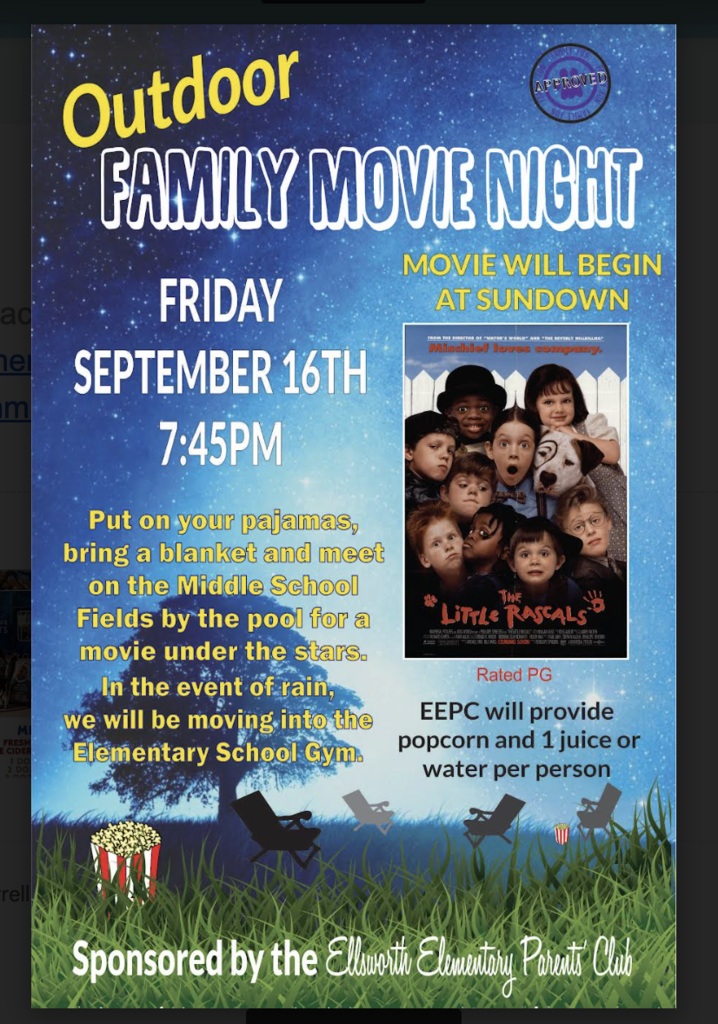 Collaboration of K-5 creating a Unity Mural based on a quilt and artist named Lib Elliot. Each student created a square.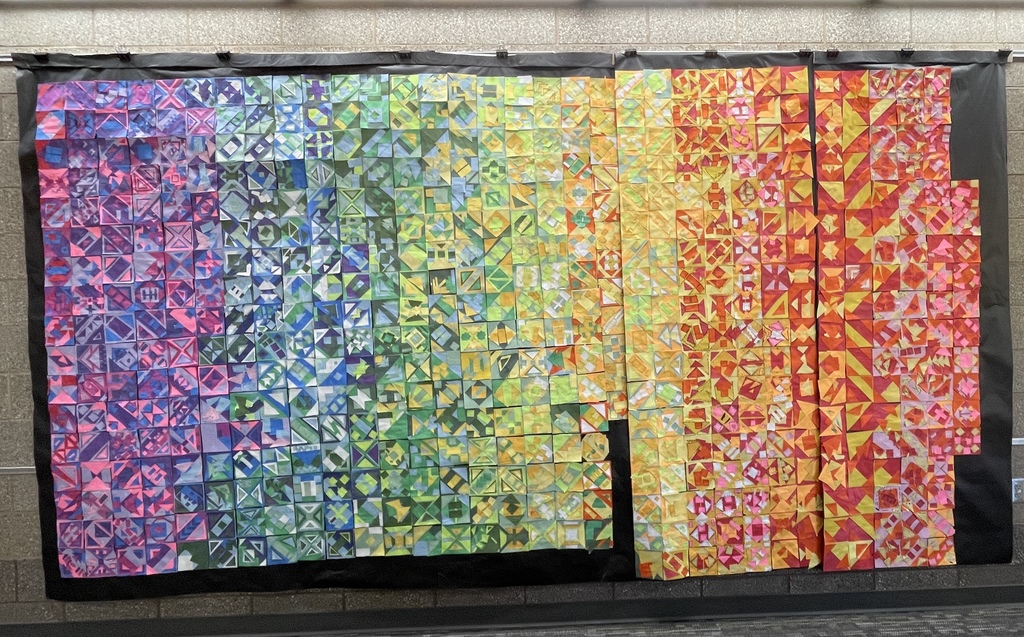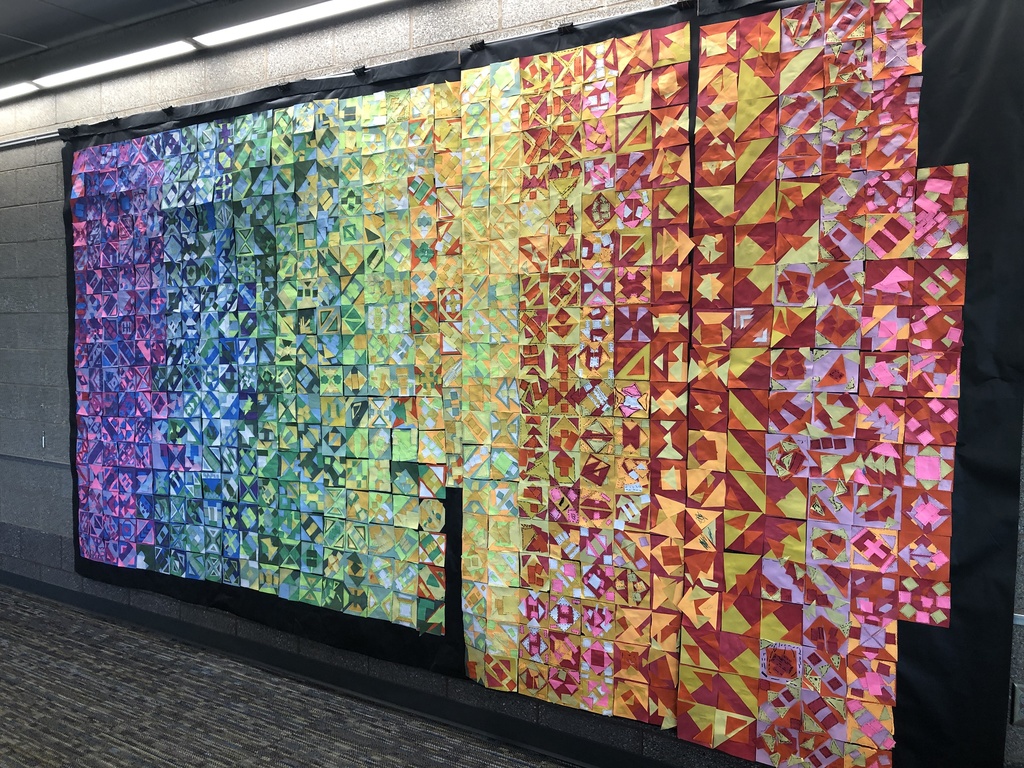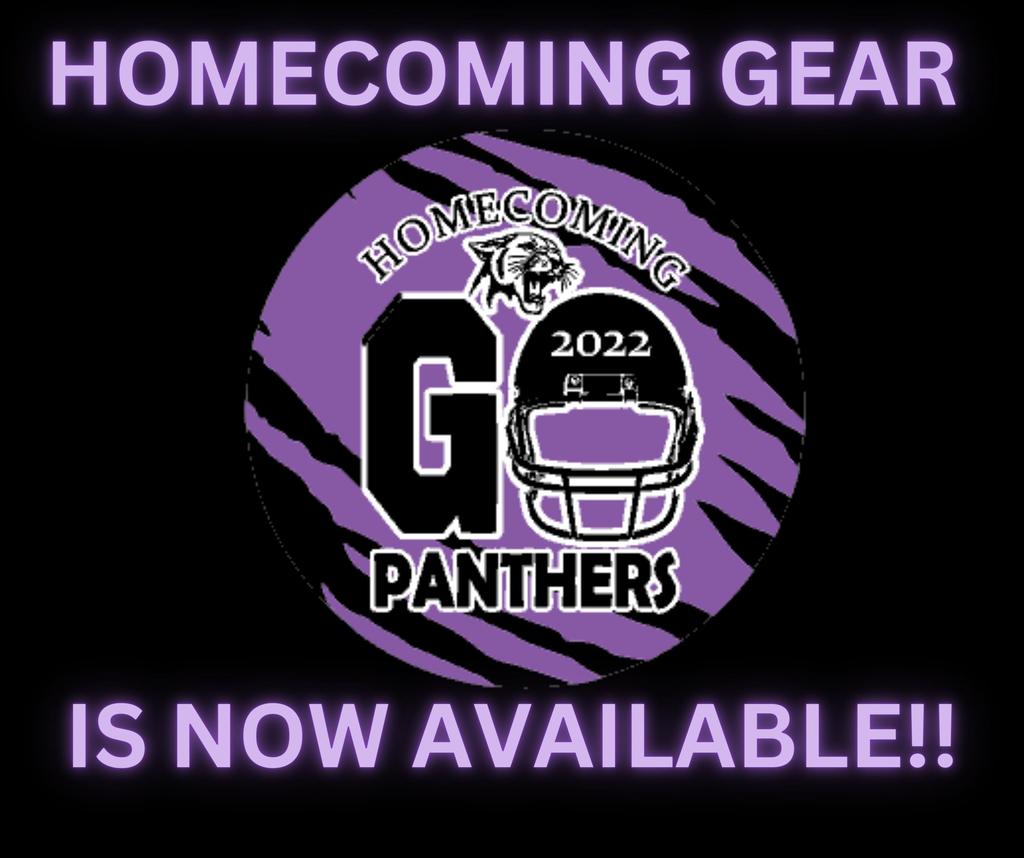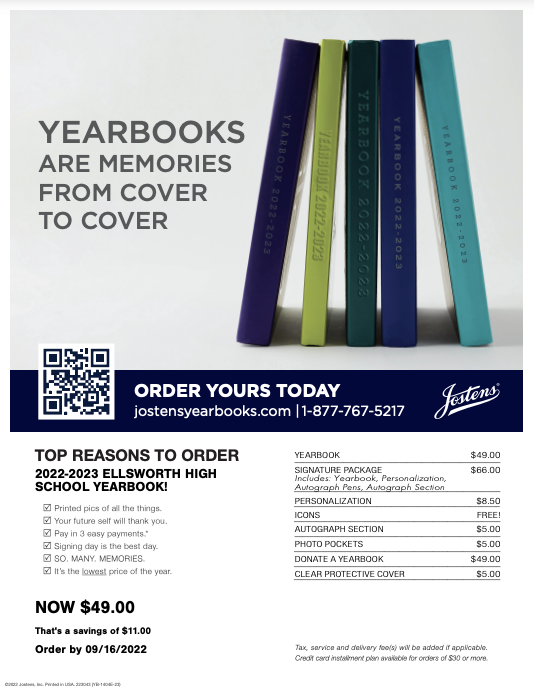 Baby & Me is a no cost, virtual observation and discussion hour for parents and caregivers with infants. Participants have the opportunity to ask our Parent Educators questions, discuss parenting concerns and build a support network with others wanting the best for their infants. Baby & Me is offered in partnership with Amery Hospital & Clinic, Osceola Medical Center, St. Croix Regional Medical Center, Western Wisconsin Health, Westfields Hospital & Clinic, and United Way St. Croix Valley Success By 6. The program model includes a personal visit to families when babies are born and follow-up support through Baby & Me. Age range: 0-15 months For more information please check out their website at:
https://frcscv.org/programs/baby-me/

Ellsworth Middle School Parents' Club will be meeting in person on Wednesday, September 14th at 6:30 p.m. at the Ellsworth Middle School in the conference room, by the lunch room. Attached is our agenda. Please bring a copy if you would like, we will have limited copies available.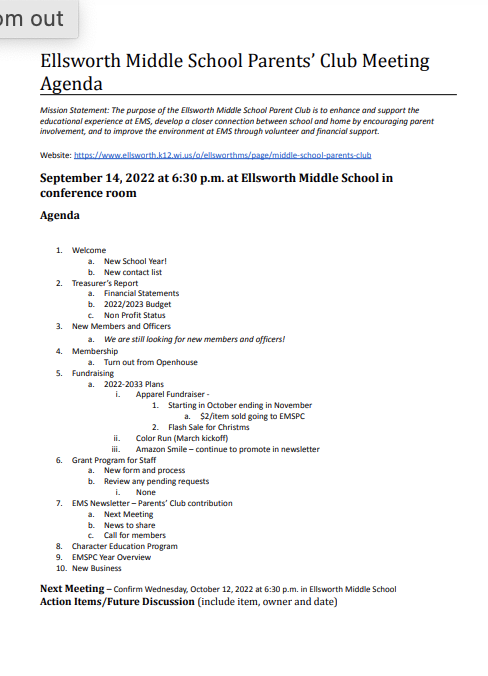 Founded in 1998, the Family Resource Center St. Croix Valley is a non-profit organization that offers free parent education and family support to families in Pierce, Polk, and St. Croix counties. Our mission is to strengthen children, families, and communities by offering no cost education, resources and support. We are funded by private grants, contracts, and donations. In addition, Family Resource Center is a funded partner of United Way St. Croix Valley and Success By 6 vendor. For more information please check out their website at:
https://frcscv.org/programs/triple-p/triple-p-informed-workshops/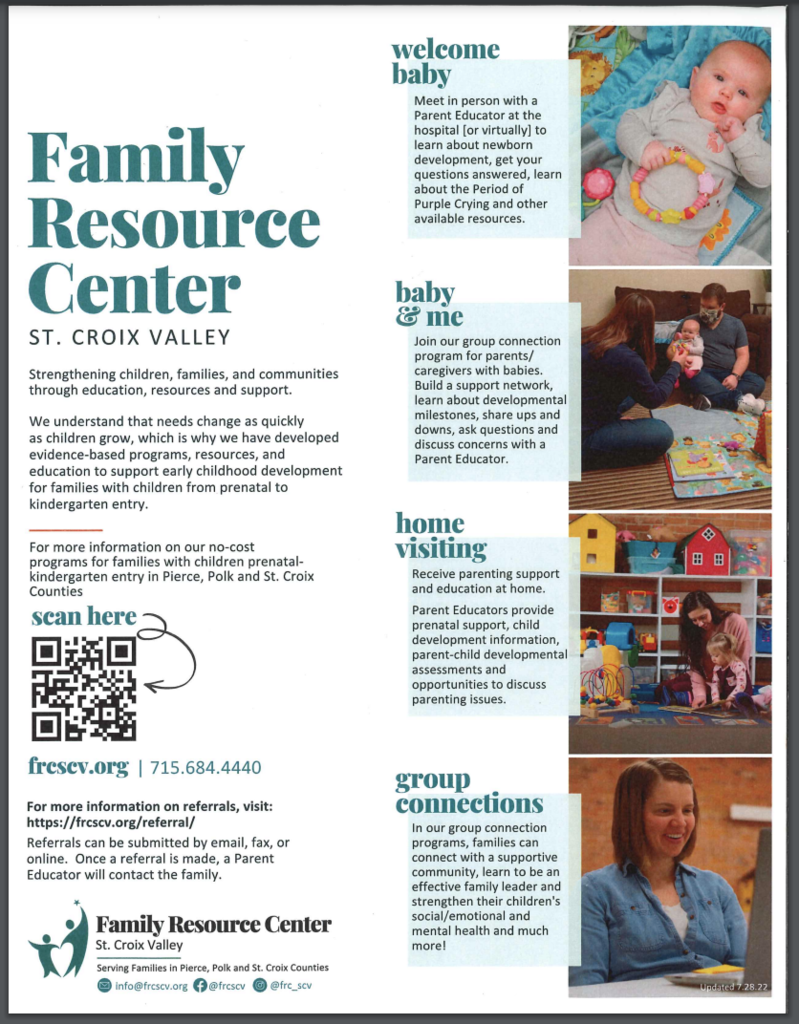 ECSD is currently hiring for a Health Aide at EES for the current school year. Applicants must have a high school diploma or GED with medical training provided. Applicants must hold a WI DPI special education license or be eligible to apply for one. License must be in process at DPI in order to begin working. Licensure cost is reimbursed by the school district. All questions can be directed to Mary Zimmerman, Elementary Principal/Special Education Director, by phone at (715)273-3912 or by email at
zimmermanm@ellsworth.k12.wi.us
For more information please see our employment website.
https://www.ellsworth.k12.wi.us/page/employment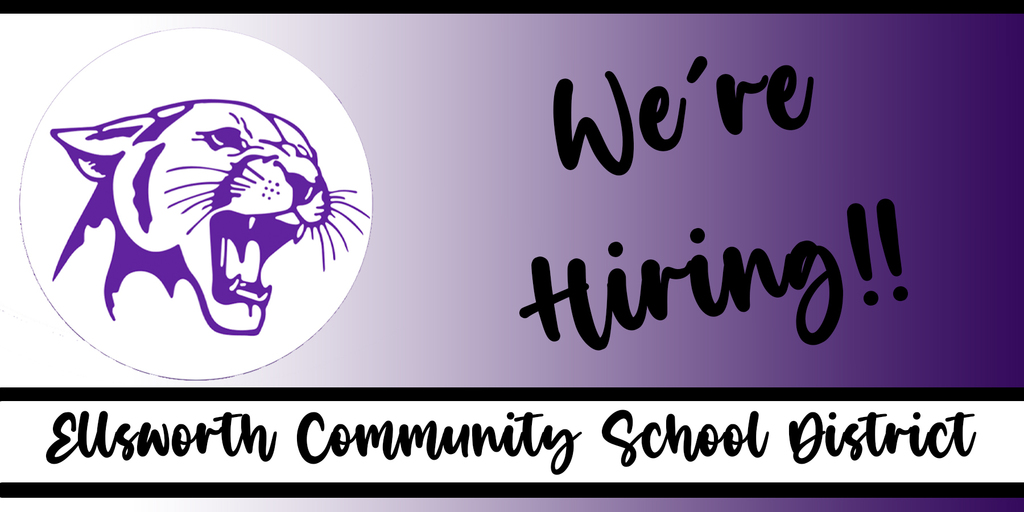 Season Athletic Passes are available in the HS Office. SEASON TICKET PRICES Adult Athletic Pass • $20 5 Events • $35 10 Events • $45 15 Events • $40 Senior Pass (65+) Student Athletic Pass (K-12 students) • $30 30 Events Season Tickets can be purchased at the high school office or at the athletic event. Passes include all home athletic events but excludes tournaments and WIAA sponsored tournaments. Parent Pass • $25 15 Events Parents that have paid a high school activity fee of $75 can purchase this card for athletic and music events.


11th & 12th Graders - Are you interested in the construction field? Mrs. Farrell is planning a hands on field trip to Build My Future > Wisconsin. Please swing by the counseling office to pick up a permission form. This field trip is free to students with lunch provided. Spots are limited so please turn permission slips in by 9/13 to Mrs. Farrell or the HS Office.
https://www.scvhba.com/build-my-future/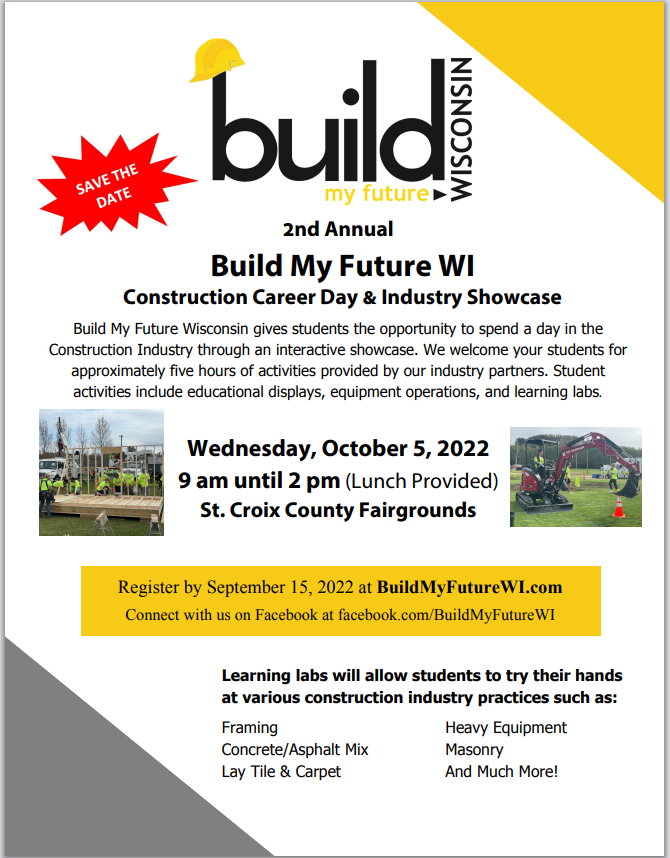 Thank you to Modern Woodmen of America Youth Group, Pierce Pepin Cooperative Services and the Federated Youth Foundation for supporting the Ellsworth Elementary School Supply Drive 2022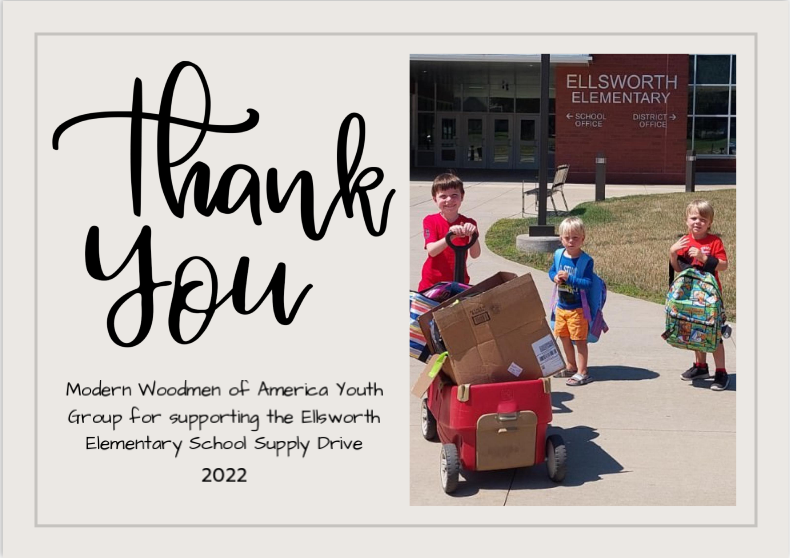 Thank you Hancock Lodge Ellsworth & Ellsworth Lions for supporting the Ellsworth Elementary School Supply Drive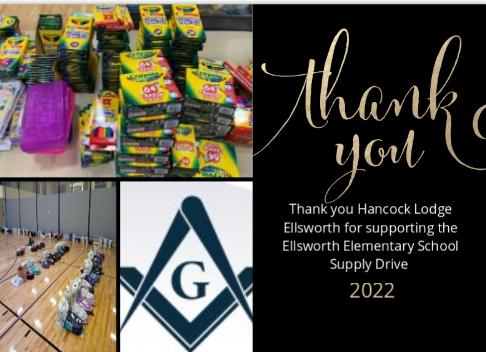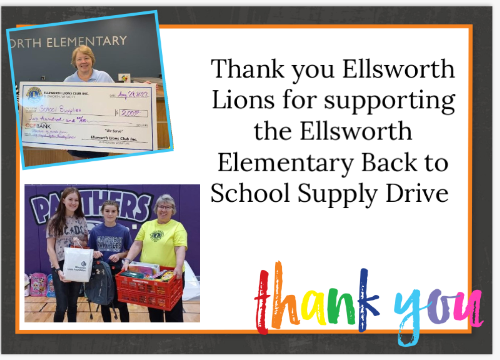 Thank you TRADEHOME Shoes for supporting the Ellsworth Elementary Back to School Supply Drive


Thank you Red Wing Shoe Company for supporting the Ellsworth Elementary School Supply Drive 2022.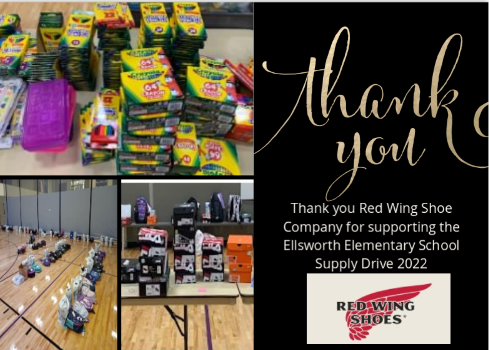 Third graders played a round of "Get to Know You Bingo" yesterday to learn about their classmates.